By admin on Jan 19, 2008 | In Announcements, Politics, The Nation | 1 feedback »
Hitler Chancellor, Reichstag Election Announced for March 5.
In a solemn and respectful ceremony held in the office of our President this morning, President Paul von Hindenburg received Herr Adolf Hitler as Chancellor of the German Reich.
Herr Hitler, the leader of the National Socialist German Workers' Party (NSDAP), was sworn in as Reich Chancellor and vowed to bring stability to the German politic following months of chaos and confusion.
As leader of the largest party in the Reichstag, Herr Hitler was the only choice to replace the failing Kurt von Schleicher, who resigned just two days previous. Elections for the Reichstag are to take place on March 5th.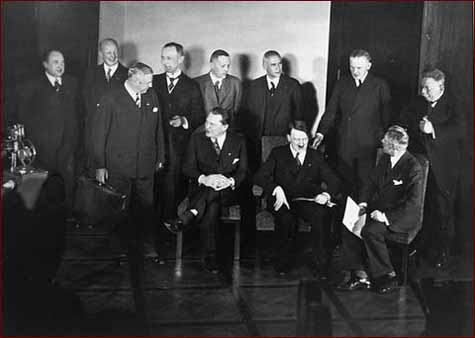 The Cabinet
Wilhelm Frick (NSDAP) is appointed Minister of the Interior and will begin drafting new legislation to strengthen and stabilise our nation. Long-time Reichstag member and President of Parliament Hermann Göring (NSDAP) is made Minister Without Portfolio, a trouble-shooter who will assist all of the other Ministers. Herr Hitler demonstrated his commitment to unifying our troubled government by appointing and retaining several others who are not from the Nazi Party.
Former Chancellor, Franz von Papen becomes Vice Chancellor and second in charge in the new Cabinet. Konstantin von Neurath remains Minister of Foreign Affairs. Lutz Graf Schwerin von Krosigk stays in his post of Minister of Finance. Alfred Hugenburg of the German National People's Party (DNVP) becomes Minister for Economy, Agriculture and Food. Franze Seldte of the German People's Party becomes Reichsarbeitsminister, Minister of Labour.
Chancellor Hitler also keeps Franz Gürtner of the DNVP in his role as Minister of Justice. Major-General Werner von Blomberg has been chosen to be Minister of Defense, in overall command of our armed forces. Paul Freiherr von Eltz-Rübenach becomes Minister of Mail and Transport.
"Immeasurable woe"
In a telegram to the President, Hitler's former friend and ally from the Munich Putsch, General Ludendorff said, "By appointing Hitler Chancellor of the Reich you have handed over our sacred German Fatherland to one of the greatest demagogues of all time. I prophesy to you this evil man will plunge our Reich into the abyss and will inflict immeasurable woe on our nation. Future generations will curse you in your grave for this action."
A torchlit parade is planned through the streets of the capital tonight and the new Chancellor is expected to greet the Berlin public.
Chancellor Hitler will speak to the German nation on February 1st in his inaugural speech.
1 comment
Comment
from: anna [Member]
This could be very very bad for our family, although I am not worried yet as Hitler offers support to us working class my wife is worried. It is clear he has a dislike for the Jews and the communists as he blames them for versailles, says they stabbed Germany in the back. I don't think it's time to be worried yet , how far can he go. Hopefully he will relax when he comes into power. This could be a good thing, I eagerly await his speech on the 1st. Lets see what he has to say.
11/02/08 @ 08:44
This post has 1007 feedbacks awaiting moderation...
Comment feed for this post
Leave a comment