By admin on Jan 31, 2008 | In Announcements, Home Affairs | Send feedback »
In a bid to curb and bring to check the rising anti-German criminal elements at work in our nation, today Minister of the Interior for Prussia and President of the Prussian Police, Hermann Göring announced the formation of the Hilfspolizei, an auxiliary police force of initially three detachments of sixty men each. Many members have had former police experience, and are to be selected from volunteers from the SturmAbteilung, the Allgemeine-SchutzStaffel and the StahlHelm, patriotic Germans who will defend order from the fiendish plots of Red and Bolsheviki groups at large in our society.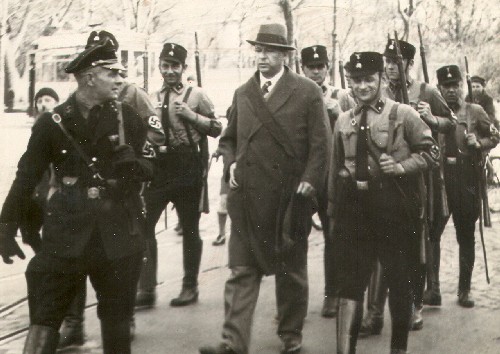 SS Recruits for the Hilfspolizei
Hundreds of police officers disloyal to the German nation have been relieved of their duties and removed from office. Last week, on the 17th of February, Herr Göring liberated the police and gave the go-ahead for fire-arms to be used against terrorists. The Minister declared full support for policemen in the carrying out of robust action, and stated that weaknesses amongst the officers would not be tolerated: "Police officers who use weapons in carrying out their duties will be covered by me. Whoever misguidedly fails in this duty can expect disciplinary action."
The Hilfspolizei will be deployed in the Brandenburg district of Berlin in the first instance, and it is expected that more units will be formed in other districts and regions of Germany over the coming weeks. They will assist the regular police in their duties and fight the anti-social bands threatening the unity of the nation. The Hilfspolizei will wear white armbands over the uniforms of their current organisations.
Feedback awaiting moderation
This post has 642 feedbacks awaiting moderation...
Comment feed for this post
Leave a comment